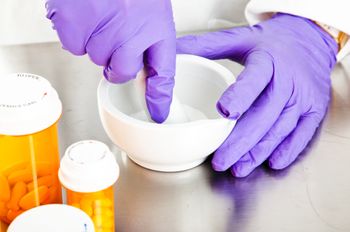 What Is Compounding?
Compounding is the pharmacy method of preparing medications to meet unique prescriber and patient needs. Compounded medications are "made from scratch" where individual ingredients are mixed together in the exact strength and dosage form required by the prescriber or needed by the patient. This method allows the compounding pharmacist to work with the patient and the prescriber to customize a medication to meet the patient's specific needs.
Some Of Our Most Common Compounds Are For:
• Bio-Identical Hormone Replacement Therapy (BHRT)
• Veterinary
• Sports Medicine
• Hospice Care
• Dental
• Dermatology
• Family Practice Medicine
• Pediatrics
• Podiatry
Why Do You Compound?
There are several reasons why pharmacists compound prescription medications, yet the most important one is patient non-compliance. Many patients are allergic to preservatives or dyes, or are sensitive to standard drug strengths. With a prescriber's consent, a compounding pharmacist can change the strength of a medication, alter its form to make it easier for the patient to ingest, and add flavor to it to make it more palatable. The pharmacist can also prepare the medication using several unique delivery systems, such as a sublingual troche or lozenge, a lollipop, or a transdermal gel. For those patients who are having a difficult time swallowing a capsule, a compounding pharmacist can make a suspension instead.
Working with a prescriber, the compounding pharmacist prepares a "customized" medication in a special compounding laboratory, using the latest techniques and devices. The medication is dispensed in a special dosage form or delivery system suited for the patient. The Pharmacist gives our patients the time and attention they deserve. Follow-up with each patient is done to see how their compounded medications are working for them.
We Compound For Animals
Our Pharmacists and Veterinarians can work together to maximize the therapeutic success and compliance of any kind of animal and reduce the overall cost of animal care. There are many different methods and medication flavors that are available to the compounding pharmacist to make the medicine more appealing to any animal. We can create suspensions, animal treats, and custom shampoo to name a few.
Compounding Lab Information
Please contact Misty Nicodemus, CPhT, Certified Compounding Technician or Jennifer Leibfreid, PharmD about compounding services at Fisher's Pharmacy.
Monday - Friday: 9am 5pm
814-623-5512
814-623-5611
For more information about compounding visit PCCA's website at: www.pccarx.com.